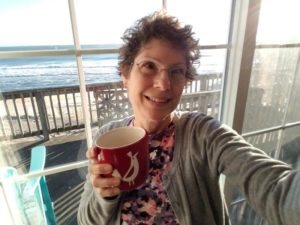 It has been a long time since I was at the beach. Growing up I could see it out my bedroom window, plus living only fifty miles from the equator allowed us to swim year around. Since then I've only been to the beach for a day visit a few times over the years, until my sweet friend decided that we needed a trip to Nags Head, NC, on the Outer Banks, to hunt for sea glass.
We arrived the first night to a wind advisory, which was disconcerting as we could hear the waves pounding the shore and our house was shaking, but by the next morning it had calmed down. The first day there I needed my coat but the other three days were in the seventies and I went barefoot (though I'd still do a dance when a wave headed my way since the water was cold). I wore a baseball cap for the first time in years and ignored my hat-hair.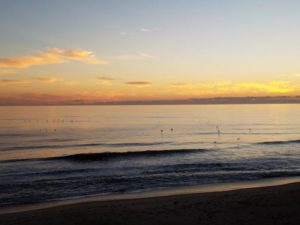 The beach is a special place for Jesus and me because for years, in my time with him at home, I imagine us there together, and since Jesus created my imagination and he's inside of me then we can have "real" fun together even if I'm imagining it. For example, a dad and his daughter pretend to have a tea party, and while they both know it's toy dishes and empty cups, their interaction together as they play and pretend, is real. It's like that with Jesus, you can "pretend" together to do something and yet your time with him is real. (I go into detail about this in my book on imagination, HERE.)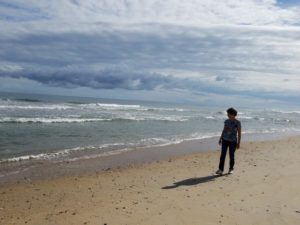 For years now, when I enjoy time with Jesus at home, I often imagine us walking on the beach together. It's hard for me to sit and try to make my mind blank and focus on him but I can easily imagine walking on the beach as we carry on a conversation, or just enjoy his presence as we walk together. We've walked on sunny days and rainy days, in the dark and in the day, and we've waded and goofed off and had marvelous times together.
So, while I was beside myself with excitement to head to the beach with my friend (and two others who are now also my friends) and to treasure hunt for sea glass, I was also excited to finally, physically, be at the beach with Jesus. It was a perfect time there. Jesus and I hunted for sea glass and I wanted him to show me the good pieces, but he said that would take all the fun out of the hunt. I said, "Soooo…" and he laughed, but my three friends and I all collected sea glass and I came home with much more than I could ever have dreamed of (so I know Jesus helped, especially when a man walking down the beach told me that it's a bad time of the year for sea glass). Some pieces aren't worn by tumbling in the sand and waves and other people would just see a piece of broken glass, but they're all special to me because they've all tumbled out of a journey in the ocean and onto the beach for me.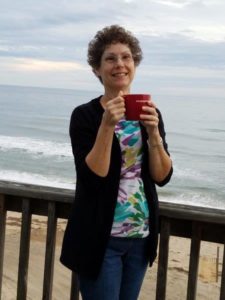 Jesus and I drank coffee on the deck every morning (I took my own beautiful Starbucks mug), daily watched the sunrise over the ocean (it rose at 7:30ish so it wasn't hard), and walked along the waves.
We spent a lot of time just experiencing it all—the feel of the sand between our toes, the smell of the sea, the breeze on our faces, and watching the never-ending waves as they thundered and tumbled onto the beach. It reminded me of what God said in Job 38:8-11, "Who shut up the sea behind doors when it burst forth from the womb, when I made the clouds its garment and wrapped it in thick darkness, when I fixed limits for it and set its doors and bars in place, when I said, 'This far you may come and no farther; here is where your proud waves halt'?"
It was a perfect time away but it is also good to be home and back to "normal." Yet now there are visions of waves dancing in my head and sand in my pockets, and Jesus and I are having fun reminiscing.
Today you think of somewhere fun to go with Jesus, whether in reality or in your imagination, because he loves to join us in every aspect of our lives.