Today I've enjoyed my two hours at Starbucks, working long enough to upload a Kindle book to my Kindle to see how it looks (yay!) and to see that my website registration to be able to comment on my blogs STILL isn't working (boo!). But the noise and bustle has gotten to me and I've set out on a search for peace. I headed to the cemetery but right before I got there I turned around and drove to the Zen Park to try it first. I'm on a mission to find a good place to hang out with Jesus and write in my notebook and I think the Zen Park might be just the place for me.
So, what's the Zen Park got going for it? So far we've got two bridges, one is painted bright red (a plus) and one is a lovely humpbacked one without railings. The paths are gravel but doable though I've had to stop twice and shake stuff out of my shoe. A pavilion set back in the trees looks inviting but is kind of secluded, would I feel safe and would there be mosquitoes?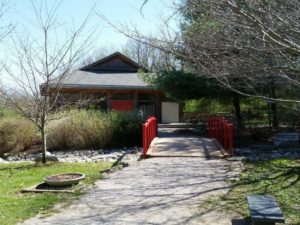 It has good water – two fountains that sound lovely, a pond that's beautiful with water lilies (and lots of green algae growing over it but we'll assume they'll clean it out now that it's spring), a large pond that looks more like a small lake, the river and the dam. Good benches, though mostly not shady, which will make them not usable when it's hot. It's noisy from the traffic on US 25 but around that it's peaceful, especially the waterfall sound.
Okay, this could work well, and I'd need to bring my yellow fold-up chair if I'm writing.
The real question—it's a ZEN garden, dedicated to … what? The Japanese idea of peace and tranquility, I assume. I don't feel any negative vibes, I like it but I'm still not sure if I feel safe here though.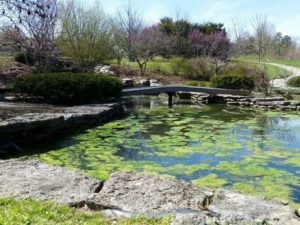 Now I'm sitting on the steps of the building, in the shade facing the lake and highway. I tried to leave but a photoshoot happening on the bridge so I'll sit it out. A woman has given me a card of the Jehovah's Witness site of "wonderful and fascinating info on the Bible." Lol.
Okay, the US 25 traffic is getting to me. SO NOISY! I'm going to the cemetery and see if I like it better, my nerves are getting frayed …
I'm here in the cemetery now, sitting on a shady bench in front of a large tombstone belonging to a couple, he's died but not her. There are lots of gaudy odds and ends cluttering it but I'm enjoying their bench and the wind chime hanging with the clutter. No traffic noise, just the sounds of the children's voices as they play little league in the ballpark on the other side of the fence. I don't mind that. I feel safe here, and it was nice to be so close to home. I do miss the eye-candy of Zen but this place wins. And I'll keep my eyes open for other options …
Now I'm sitting on Mama's front porch enjoying the outdoors some more since I haven't gotten my fill today. It's nice, birds are singing … well, chirruping is more like it, no songs being sung. Where are the songbirds? I could be tempted to get a canary …
The air is beginning to cool down and the man mowing nearby is kind of on my nerves, but I smell fresh-cut grass, and the glare of the sun is softening. My computer calls–my registration problem is fixed and my friend in New Jersey is waiting to hear from me. I'm also in the middle of emailing my new friend in Italy and we've having fun chatting. But I'm enjoying peace and hanging out with Jesus here since my Jesus space in the basement has frozen me, I need summer to come and warm it up. HEY! Let's go swing!
Okay, the swing is in the back yard and here we are. I've got my two Lindor dark chocolate balls from Jan to enjoy. There are two kids on a trampoline beside the fence hollering but I'll work to tune them out. Their dad has come out now, maybe they'll have to go in …
Now a loud helicopter is buzzing over the house – geeze! I really just want some quiet, here comes the … oh! It's a small plane, putt-putting over. The dad's now taking orders for fast food and I think they're leaving, yep. The dog on the downside of the fence has discovered me and is barking and here comes the plane again. Hey! Jesus, remind Terry about the gyrocopter! He'll get a laugh out of that. He always supported my wild schemes, like the train pump car I wanted.
The plane again, he must just be buzzing us! I've just had to drag the swing off the muddy spot onto a grassy spot for my feet, and the dog behind us with the kids is barking in time with the other one. Someone's car alarm is going off and a plane is circling again, but a different one this time.
I'll try to focus on the pretty bird chirruping. But without a cushion this swing is grating on my tailbone and I can't get comfortable enough to even lift my feet to swing. It's pretty back here though—tall, brilliant-green grass, with three yellow tulips blooming. The neighbor's big tree has a green sheen on it, and the bluebells are out. Nice, but I've had all the peace I can take, I'm heading in.