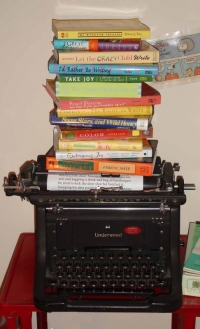 For a writer, the pleasure is not only in writing but in having others read what you write. So this portion of my website is not only for your pleasure and entertainment but for mine. :) I love to put my thoughts down on paper, honing them until I am saying exactly what I want to say. It not only helps me sort out what I think, believe, and feel, but it brings the pure pleasure of writing, whether on paper or my laptop. I love typing along at the speed of light but there is also something in the clean crispness of a blank sheet of paper and writing with a wonderful pen. (I gave up on using beautiful pens, I'd rather them dance across the paper smoothly than to look pretty, and unfortunately, you can't have both. So it's black Pilot G-2's all the way.)
I am not attempting, in any way, to say that what I feel God is saying to me is "Gospel" or for everyone. These are things I believe that God has shown or spoken to me personally. Some of them you might want to try yourself before you read my answers, to see what you come up with yourself.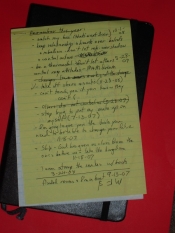 So here are some of my different thoughts and ramblings, and you can browse at your leisure. Some thoughts are light and fun, others are deeper and more thought-provoking. Some have led me to rethink myself and what I believe, others make me laugh out loud just rereading them. I hope you enjoy reading them as much as I've enjoyed writing them.
My Spiritual Job Description
Describe Jesus Based on Your Experience
Trust Issues
MY Christmas Newsletter
Life in Colors – Empty-nest Thoughts
Jesus – The Realization
The Moment – Jesus Leaves Heaven
The Breakfast Buffet
Three Things About Jesus & Me
An Interview With Jesus
Ten Things I Love About Jesus!
Wedding Vows Between Jesus & Us
The following two journal entries were written during a period of time when Terry had been laid off and we were living with our two teens over a business on Main Street, Georgetown, Kentucky. Main Street has been fixed up beautifully with old-fashioned lamp posts and antique shops, and our two rooms had the Victorian romance of having high ceilings and tall windows overlooking the street, but two rooms full of four people and a dog can get pretty cramped. Time alone was a treasure to be savored. Knowing this will give you context for why I couldn't escape the dog. :)
Just Call Me Martha
Just Call Me Jonah
My beloved husband Terry died on August 1, 2012. Here are the two articles I wrote, three months apart, sharing how my life changed.
Terry
Rebuilding
Sometimes the only way to keep your sanity is to lose your mind.
(Brenda Cobb Murphy)