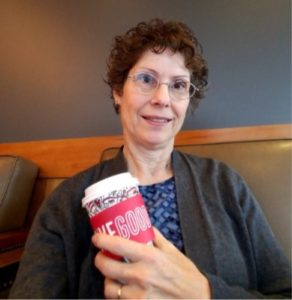 It's Christmas Eve and I'm sitting here at Starbucks with Jesus, the music playing as I look out the windows at the cloudy, dreary sky. My mom is safely off to church (though her ride was late and I was beginning to stress over whether I should just take her or not, did they forget?). I've savored my Flat White and warm chocolate croissant and now I'm going to wish you a very, merry Christmas. I hope your year … no, it's not the new year yet, I'm getting ahead of myself (be present, Brenda). I hope you have a wonderful Christmas, however your personality and soul define it. I suspect that many people would not consider being at Starbucks the perfect way to spend a Christmas Eve morning, but they're not me. :)
My morning has already been interesting. It was easy to find a parking space here (unusual, I often have to park down in Frishes' parking lot and walk) and as I ordered my breakfast an older man in front of me stepped over and wished me a Merry Christmas, saying that he'd like to treat me to breakfast. My heart overflowed with warm-fuzzies! What a sweetheart he was and it totally made my day. I considered doing the same thing for someone else except that no one else is in here except for the woman sitting near me, but she was already here when I got here.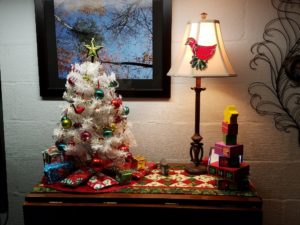 I collected my food and sat down beside her, even though the two opposite seats are empty, because if I sit opposite this armchair the light is on my screen and messes with it. She was reading, and while I didn't want to get involved in any conversations (I want to write YOU) I did catch her eye at one point and wish her a happy Christmas Eve, earning myself a polite and reserved response. She then got up and went to the bathroom, and on her return she gathered up all her things and moved over as far from me as possible. Oookaaayy. I had considered asking if I could pray for her but I see that she wants me to leave her alone, and I respect that.
It has been a busy week. I've been ready for Christmas for a bit so there's been no rush of last minute stuff, but Thursday someone turned right on red as I was driving through my green light and ran into my new (to me) car, so after Christmas, once the police report is in, I'll have to pursue a new bumper. I've had this car less than six weeks so it's a bummer, but it's also just a car and my mom and I weren't hurt so I'm counting my blessings.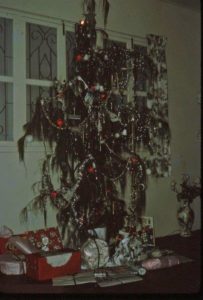 What does your Christmas look like? What are your favorite traditions? Here's a picture of our Christmas tree one year in Thailand. The Australian Pine branches didn't make a great tree but hey, we loved it. I have found that over time, as our lives change, we let go of some traditions and create new ones, and that's not a bad thing. I heard someone say this week "But it's our tradition to do it that way!" over something that wasn't working out and they were angry and hurt over it, and I felt sorry for them, that they're so locked into the old that they can't be flexible and embrace life as it comes. Life is rarely perfect and if we lock ourselves into only being happy with perfection than it's a set-up for disappointment. We are wonderful human beings who are created with the ability to be joyfully flexible and embrace life whatever wrenches are thrown in, because to stay static and brittle causes us to lose out on a lot of gifts that God has for us.
I'll spend tomorrow morning with my mom and we'll open the gifts we've each bought ourselves and laugh and enjoy each other, then around lunch my mom will go spend a few hours with my sister while my son Chris and I go eat Chinese—our Christmas tradition from years ago when the young cousins would spend Christmas afternoon together so my husband Terry and I would go eat Chinese (the only place open). I'm looking forward to a peaceable Christmas day, celebrating my beautiful Jesus!
May all your Christmas dreams come true,
Brenda