BOJANGLES, EGGS, & CHRISTMAS FUN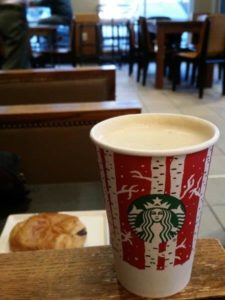 It's 8:30 in the morning, I'm sitting at Starbucks, and guess what? I got the cup with birch trees on it today, and while I like all three of the Christmas cups I enjoy the birch tree one the most. Now, having finished my chocolate croissant and Flat White, I'm going to get to work writing a blog.
I'm loving celebrating Christmas this year. I'm working my way through four different Advent Calendars each day and I've been to two Christmas parties. A big part of December for me is thinking ahead to what next year will bring and asking God what the theme will be. What do I want from 2017? What part can I play in making it happen?
I had a Christmas miracle happen this week. I'd left a bag of groceries I'd brought in from the car on the kitchen counter and the items on top shifted, causing the whole bag to fall onto the floor with a mighty crash. It was the bag that included the dozen eggs, but unbelievably, I only lost three!
Yesterday my mom and I ate at our new Bojangles, and as we sat there the Christmas music caught my ear. For a moment it sounded like worship music but I told myself that it was just one of the traditional Christmas songs. Then it played "I Heard the Bells on Christmas Day" sung by a man and I could tell he was worshipping, so, being my favorite carol I went and asked what CD they were playing. The young girl told me that the "big boss" wanted Christian music playing but she didn't know what it was. Once home I listened to youtube videos until I found it—MercyMe's album "Christmas Sessions." And yes, I paid the $5.99 on iTunes to buy the album. :) (At the bottom of this I'll include a link so you can hear their version of the song.)
(Ooh, I'm getting chilly, I think I'll put my scarf around my neck to stop some of the draft. And the music ran out so it's lovely and quiet, I'm the only customer in here right now.)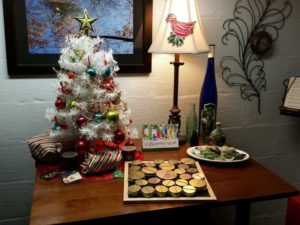 I'm enjoying Jesus tremendously this season. Being an introvert, as Jesus and I were on our way to a Christmas party this week I made my plans. "Alright now, Jesus, here's the plan—when I catch your eye we'll head to the bathroom and take a break from the melee." It was a fun party but there came a point where I signaled Jesus and slipped off to take a few deep breaths, to stand and let him hold me, and to check my email, fortifying myself again for the people and noise.
(Uh-oh, Starbucks has remembered the music and turned it back on. "What doesn't kill you makes you stronger …" wait—this isn't Christmas music!)
I want to encourage you to embrace every moment of this season. Even in the midst of the busyness you can take two minutes to stop, take a deep breath, and look for Jesus. You can listen to the music playing in the stores, touch the snow, drink something hot, watch a Christmas movie, or sing your favorite carol loudly (alone in the car is the best place for loud singing). I've found that even taking two minutes a day to appreciate the season brings it close, focusing me on Jesus.
May your Christmas be all you hoped for, because Christmas is what we allow it to be in our soul. We choose our Christmas—whether to embrace it joyfully and accept the imperfections, to be a Scrooge, or to let ourselves get worn out and just wish it were all over. This year be sure to stop and smell the cinnamon, peppermint, and evergreen. (I attempted to smell some evergreen last night, resulting in sap on my nose so I got to smell it all evening!)
Starbucks is getting crowded and with the door opening so much it's cold, so I'm off to run errands and then head home to my warm, cozy house.
Wishing you a joyful Christmas season.
Click HERE to listen to MercyMe's version of "I Heard the Bells on Christmas Day" (after a fifteen second ad).